1949 8th Grade Classmates
1949 8th grade classmates of Lincoln School. A 70th anniversary luncheon/dinner will be held later this year. Why not join Bob Schober, Audrey Wagner, Bill Taylor and Bob Shook. Contact Bob Shook at (716) 433-5366 or e-mail
All Alumni - Summer Night Out
Friday, August 2, 2019
The Grill at the Dome
175 Brompton Rd, Tonawanda, NY 14150
7pm
No cover!
Come and join us for some fun!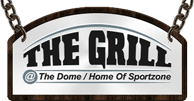 Kenmore West Alumni Association and Foundation would like to thank The Grill for the generosity over the years by hosting this event. Thank you again John (class of '65) and Sharey (class of '66) Edholm! Visit Website
Kenmore West Class of 1989 Reunion
Friday, August 3, 2019
Caputi's Sheridan Pub
2351 Sheridan Drive, Tonawanda, NY 14150
7pm
30 year reunion for the class of 1989!
$35 payable at the door
RSVP is a must for an accurate head count
Please join the Class of 1989 Facebook group and RSVP to the reunion invite on that group page.
See Facebook Page
Not on facebook? RSVP to Bridget at by June 30, 2019.
1984 Class Reunion
Saturday, August 10, 2019
Reunion will happen on August 10, 2019 and will be located at Banchetti's by Rizzo's on North French Road. The party is from 7pm - 10pm Saturday night.
The cost is $40/person, which will also include an open bar for the duration of the event. Payments can be mailed to me at 293 South Lane, Grand Island, NY 14072. Payments can also be sent via PayPal to the following account, .
The Grove at Banchetti's is outside, so dress casual and pray for good weather!
Kenmore West - Class of 1969 – 50th Reunion
Main Event
"GOOD DAY SUNSHINE"
Friday, August 30, 2019
Where: Banchetti"s by Rizzo Outdoor Grove
550 N. French Rd, Amherst, NY 14228
When: 6:00 pm to 11:00 pm
Cost: $75.00 per person to include Appetizers, Dinner, Beverage & Dessert
Music by: "Back Beat 64" the renown Beatles Band that played on our 40th Reunion for singing and dancing the night away.
Dress: Come as you like ... it is an indoor/outdoor venue.
Please RSVP to or contact Barbara Lowenstein Cohen @ 716-727-0686
Payment due by August 15, 2019.
Warn Up Gathering
Thursday, August 29, 2019
@ The Shores Waterfront Restaurant, 2 Detroit St, North Tonawanda, NY 14120
Starts at 4:00 pm. Meet and Greet, No fee. Food and drink is on you!
Please RSVP Barbara Lowenstein Cohen @ 716-727-0686 (They would like to know how many to expect)
50th Reunion Lunch
Saturday, August 31, 2019
Paddoch Chevrolet Golf Dome
175 Brompton Road, Tonawanda , NY 14150
1:00 pm. Buffet Lunch
$16.00 per person which includes tax and gratuity. Cash Bar (We will need reservations and payment also)
Please RSVP Barbara (Lowenstein) Cohen @ 716-727-0686.
Tour of Kenmore West High School
NOTE: Tour of Kenmore West High School before hand will take place the morning of August 31 @ 10:00 am - 11:30 am. (Before lunch)
For additional information
Gamma Sigma Fraternity International
Friday, October 11, 2019
Gamma Sigma Fraternity International, founded in 1869 at Brockport Normal School, Brockport NY will be holding a 150th anniversary meeting in Niagara Falls, Ontario. It will be on October 11, 2019. For details, and alumni to join, please see our Facebook page: Gamma Sigma Fraternity International.